If there's one thing I understand more than most, it's the value of home.
While our lives have been impacted by rapid change, I am staying informed of how this affects my clients and our local real estate market. Social distancing and limiting direct contact have created challenging needs in the real estate world. I am leveraging virtual services successfully for clients to maintain their safety while still providing a high level of professional service to each and every client.
We're all in this together and I look forward to guiding you home.
Here's a few ways can help with your real estate transaction:
Virtual Assistance
Remote Real Estate Selling/Buying
Client Consultations – Custom
Virtual Showings – Virtual tours to give potential buyers that in person feel. When appropriate planned safety preparation for in person appointments.
Electronic Contracts & E-Signatures – Secure and simple delivery and signing of contracts remotely.
Offers Presented Remotely – Technology options to present offers safely and efficiently.
In-Home Appointments – Work closely with you regarding inspections and appraisals to coordinate regulated safety guidelines established to ensure safety.
Closings – Many aspects of the closing now can be completed online or in a drive-up manger.
Moving Day – I will assist you with the safest ways to assist with your move.
I know that as you prepare to buy or sell a home, the current environment may cause additional stress. I take pride in my ability to continue to serve you and am available to help you continue your journey of buying or selling a home successfully and safely.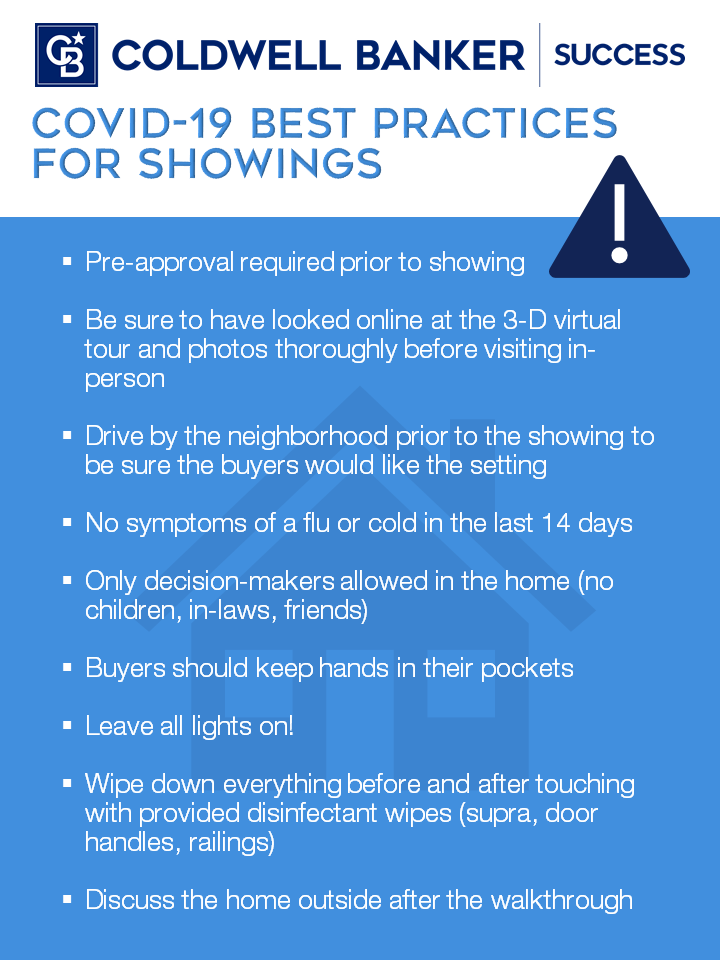 I want to thank you for your business and your trust in Coldwell Banker®. The news about COVID-19 is at the top of everyone's mind, and my priority is the health and safety of my clients, family, friends and our community.

Like many other businesses, Coldwell Banker is closely following guidelines from the U.S. Centers for Disease Control and Prevention (CDC), the World Health Organization and our local and national governments. During this time, we are continuing to serve clients and are committed to protecting you and your home as well as we can in this unprecedented environment.
We are actively taking the following steps to ensure that we are doing what we can to keep everyone safe:
Posting signage asking anyone who has been or has had contact with someone who has been diagnosed with COVID-19 or is exhibiting symptoms to not enter the property but to instead reschedule their tour.
Wiping down all doorknobs, counters and points of high touch before and after showings.
Asking visitors to remove their shoes when they enter a home.
Encouraging our team to work remote and engage in social distancing.
We will never knowingly place you in a situation where you are in close proximity to any person who has tested positive or is otherwise exhibiting known COVID-19 symptoms. In order to help us keep you safe and do our part to limit the spread of COVID-19, we expect that you will tell us if you or anyone living with you has tested positive or is exhibiting known COVID-19 symptoms as well.